Blume breaks the period stigma with natural skincare products & feminine items
Women can feel more confident during their periods with Blume's simple ingredient face wash, acne oil, organic pads and tampons, and other feminine products.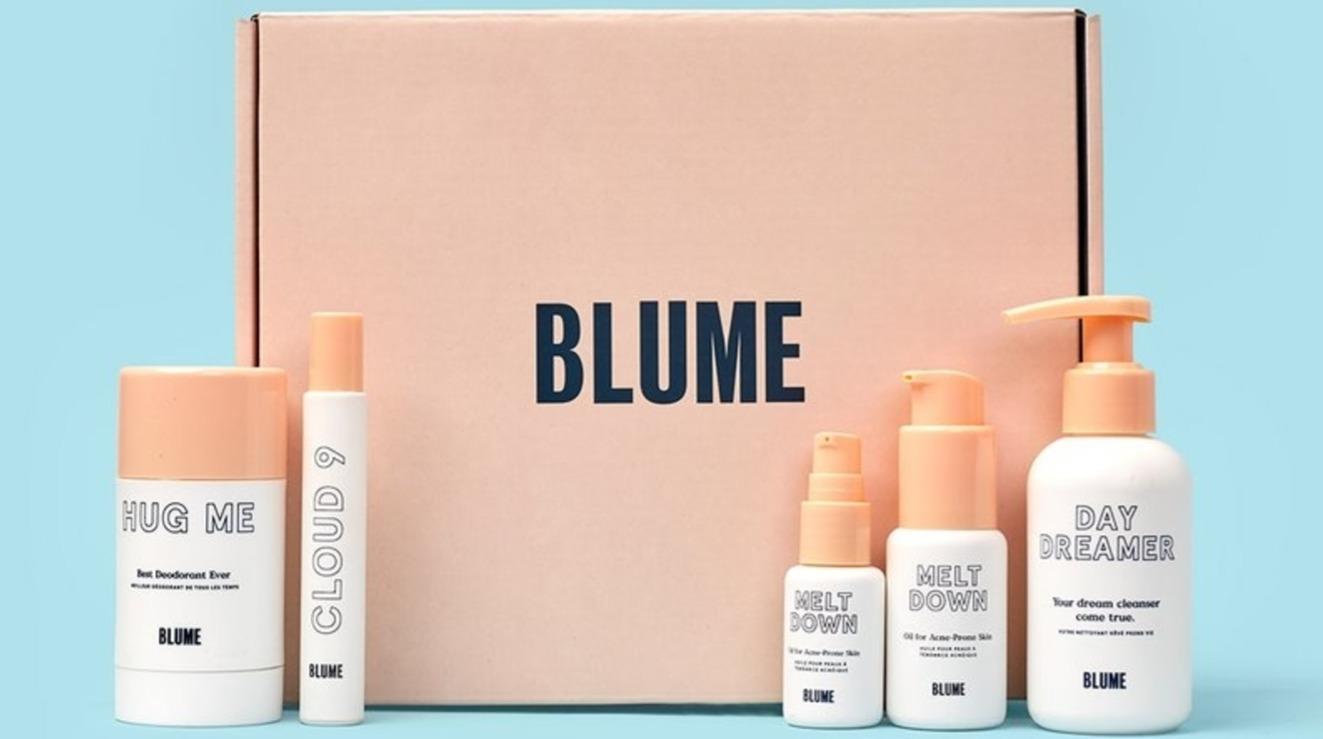 Blume aims to make your period less of a taboo topic. Sisters Bunny and Taran co-founded Blume when they realized how hard it was for young women to purchase products for their period online, and how weird the world treats normal things like a menstrual cycle, tampons, pads and puberty. They created Blume to remove the stigma around acne, puberty, periods and sex education, and are shifting the narrative away from perfect skin towards healthy skin.
Gentle skincare products for young women
Did you know that 80% of women experiencing monthly periods deal with hormonal acne, from painful cysts to inflamed pimples? While these breakouts can affect women differently, there's one culprit to blame: hormones. Estrogen, the hormone that's highest in a woman's body while she ovulates, dips shortly after ovulation while progesterone rises. The rise in progesterone causes pore compression, inflamed skin, and triggers oily skin in pubescent girls. The hormone testosterone (yes, women do have a small amount!), which is also higher around this time, encourages the sebaceous glands to produce more oil. More oil production and closed pores equates more acne, which no young girl wants.
Due to the pain and embarrassment surrounding hormonal acne, pubescent girls might try every trick in the book to tackle their monthly breakouts. However, the last thing a girl needs is to use skincare products with strong chemicals and ingredients that they can't pronounce. That's only going to make those period breakouts worse and slowly but surely damage the skin with time. Blume's products for the skin, on the other hand, are simple, clean, and all natural.
Daydreamer Face Wash
Nothing says a clean canvas like a face that has just been washed with Blume's vegan, cruelty-free Daydreamer Face Wash. This cleanser offers a creamy solution that, while is gentle, is capable of getting rid of the oil buildup you experience upon waking up in the morning or even dirt at the end of the day. This product doesn't contain alcohol or added fragrance, so it won't dry out or irritate your skin. Being sulfate- and paraben-free, this is a facewash that won't clog your pores and trigger more acne, nor will it damage the skin overtime. To top it off, this product was a winner of the 2021 Byrdie Eco Beauty Award!
Blume recommends using Farmacy's Green Clean Makeup Meltaway Cleansing Balm to remove makeup and then their Daydreamer Face Wash to get rid of the rest of the gunk while reducing redness, hydrating the skin, and evening out the skin tone. Using two cleansers instead of one is a trending Korean skincare technique.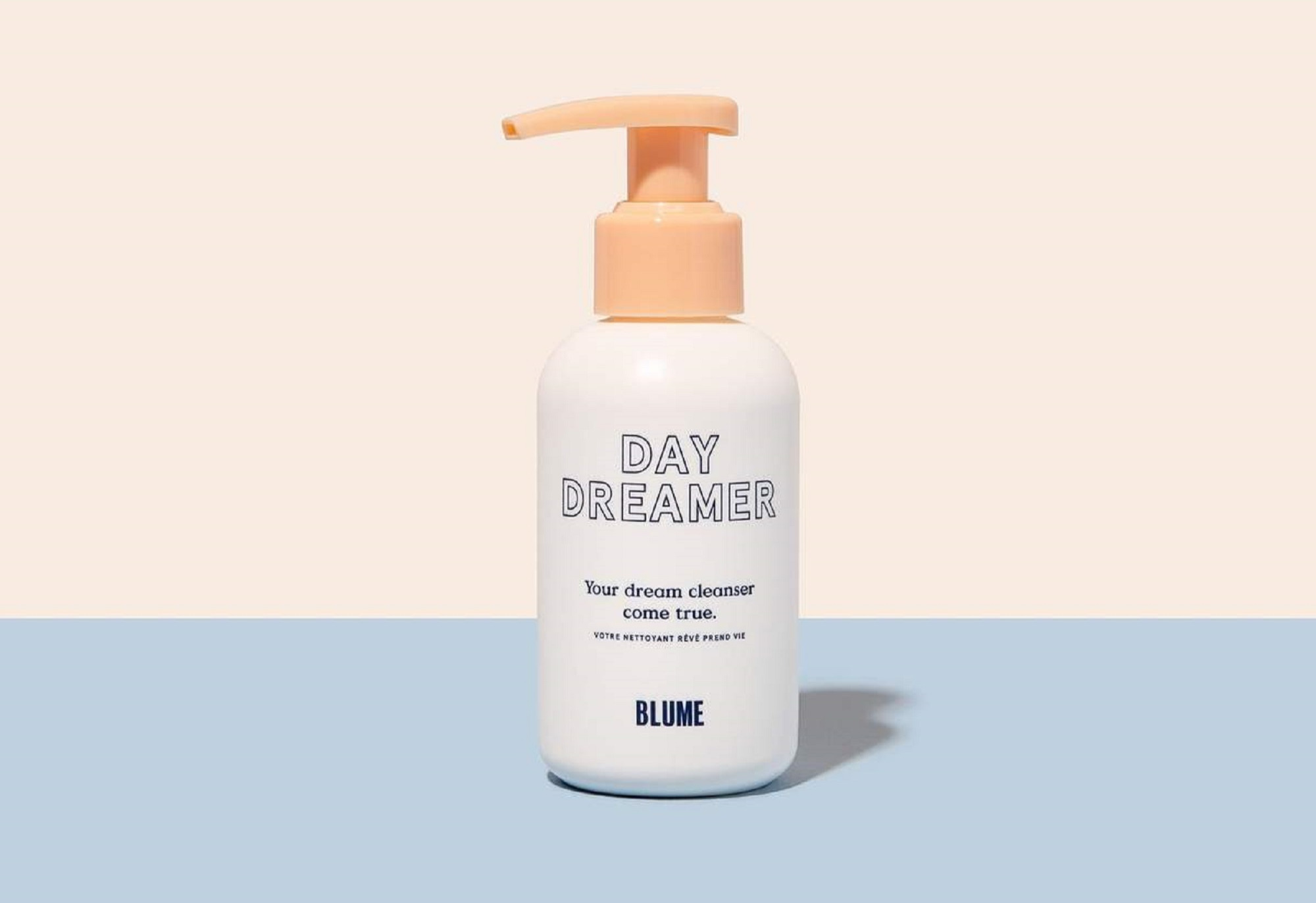 Shop Blume Daydreamer Face Wash
Meltdown Acne Oil
Every girl knows that just because they regularly wash their face doesn't mean they're immune from acne. Some women experience breakouts due to a hormone imbalance or poor diet. Other women might experience something known as purging, where the skin has a sudden, negative reaction to a new product or treatment that contains certain ingredients, such as salicylic acid.
Whether your skin is purging or breaking out, Blume's Meltdown Acne Oil is a great solution that contains "no bad stuff." This organic acne oil helps get rid of those pesky pimples by balancing your skin's oil production while still making sure your face is hydrated enough. Apart from tackling pimples, this oil can also manage redness and reduce the appearance of acne scars.
Whirl Moisturizer
Those with sensitive, acne-prone skin can lock in hydration with their all-natural, hyaluronic acid-containing Whirl Moisturizer. The hyaluronic acid component in this moisturizer is perfect for hydrating the skin, helping the skin defend against environmental factors, improving skin tone, increasing wound healing, smoothing the skin texture, and promoting the regeneration of skin cells for healthier skin overall.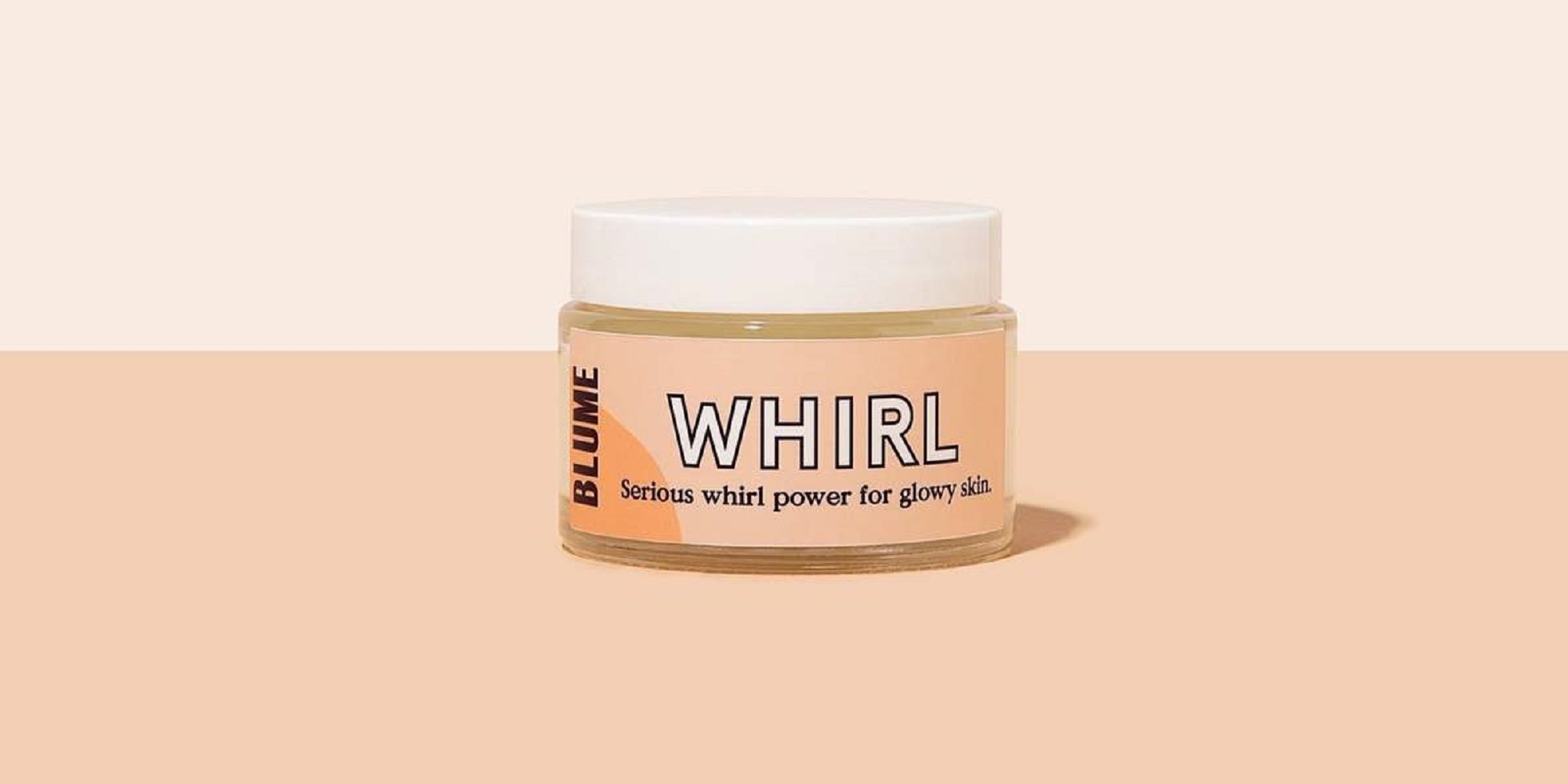 Clear Skin Kit
Dealing with acne during your time of the month? The Clear Skin Kit by Blume offers an easy, 3-step routine to keep your face clean and clear when dealing with annoying breakouts. The kit includes the company's Daydreamer Face Wash, Meltdown Acne Oil, and Whirl Moisturizer.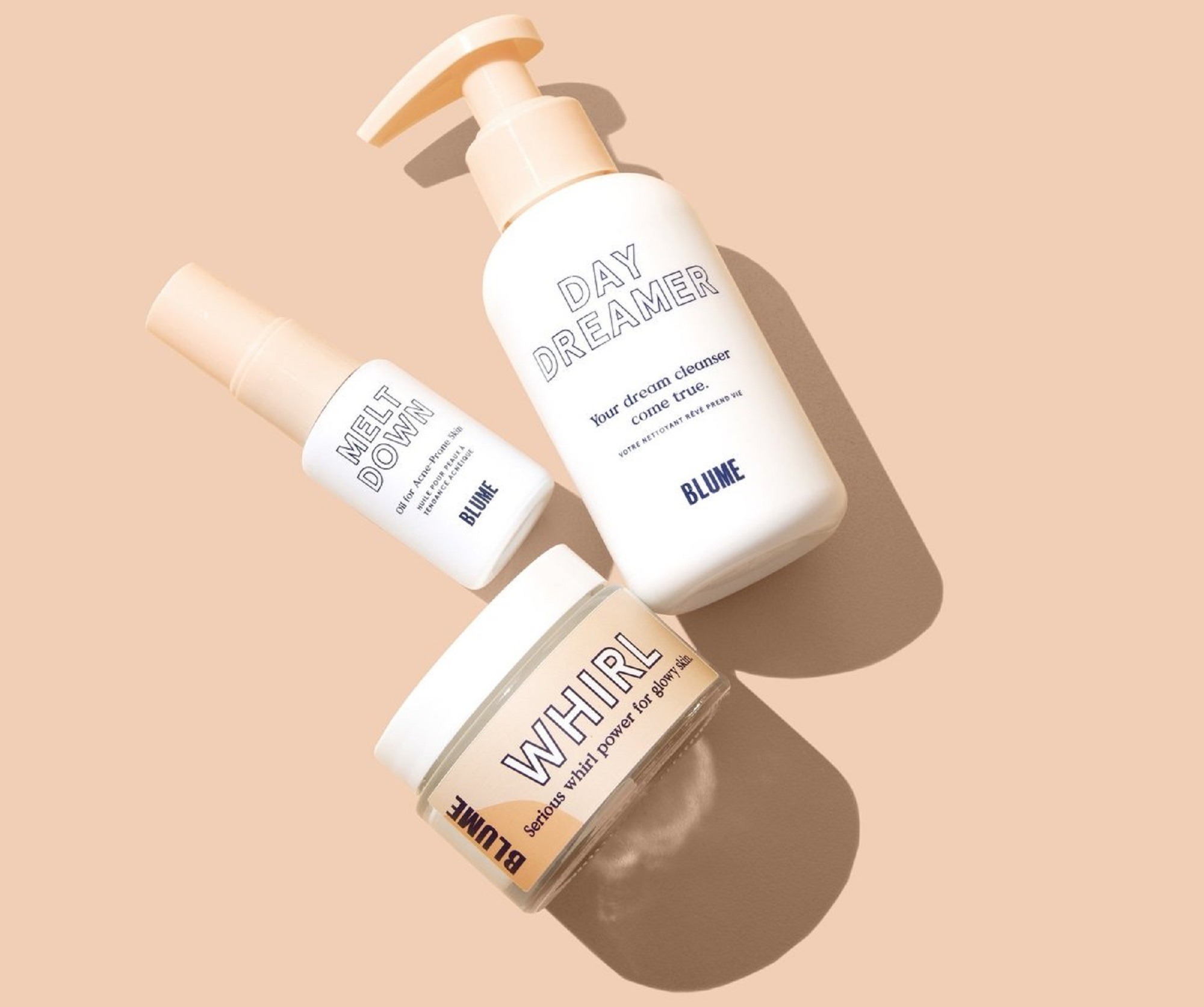 Hug Me Probiotic Deodorant
Another product to keep you feeling fresher during your time of the month includes Blume's all-natural Hug Me Probiotic Deodorant. Why use natural deodorant instead of standard deodorant? A 2009 study published in the Breast Cancer Research journal discovered that women who use deodorant containing aluminum or pore-blocking antiperspirants are at a higher risk of developing cancer in the upper areas of the breasts. The use of aluminum-containing deodorant can also increase one's chances of developing Alzheimer's in the future. Blume, however, keeps it simple and safe with natural ingredients and no aluminum or added scents.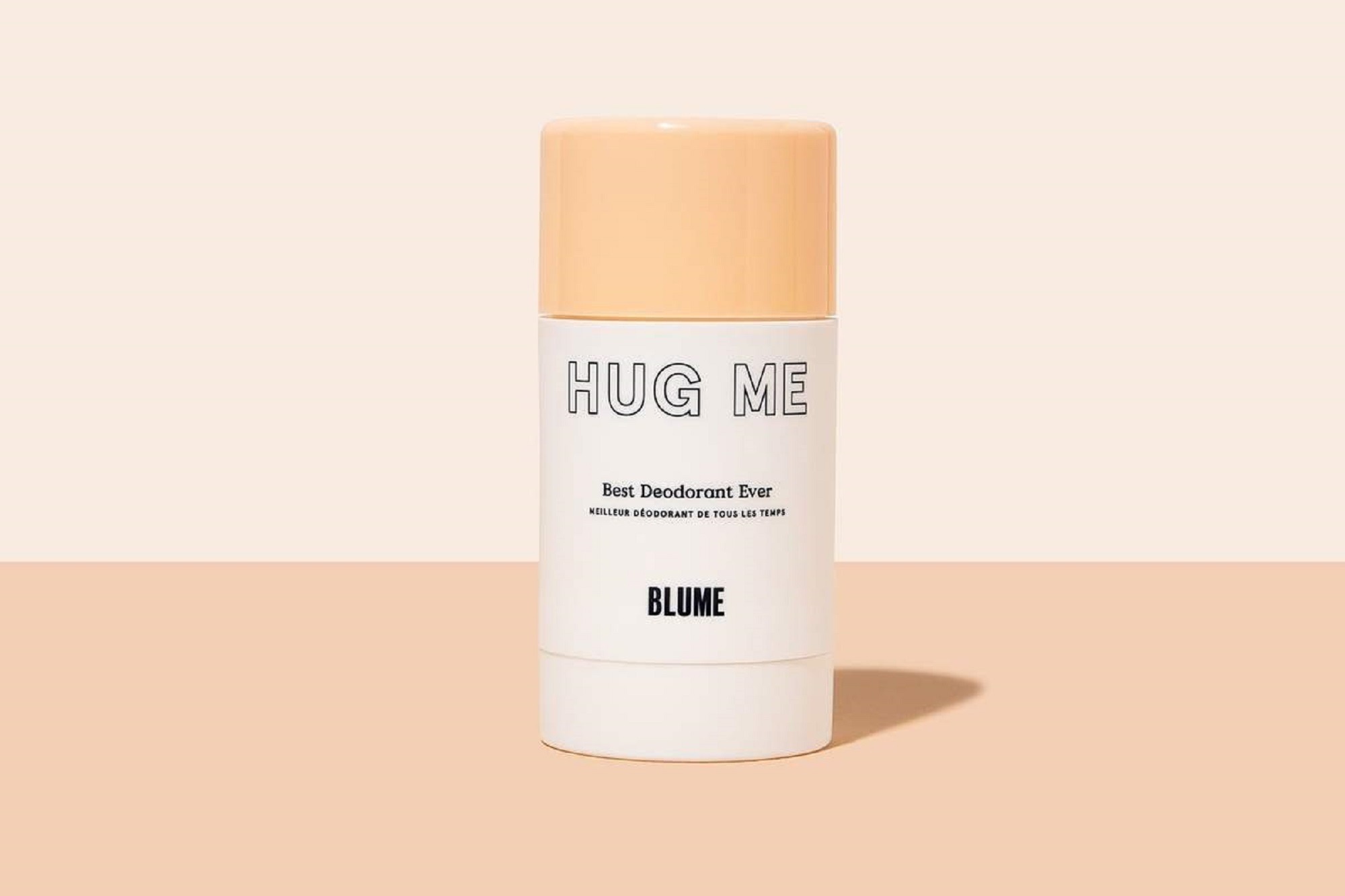 Shop Blume Hug Me Prebiotic Deodorant
Period-friendly products including organic pads and cramp oil
Since women can't exactly cut ties with their period, all we can really do is be prepared for these moments. This means using something to collect the waste, like pads or tampons, and finding a solution for those dreaded cramps. Blume offers solutions in the form of organic, 100% cotton tampons and pads that are non-hypoallergic and good for the environment, cramp oil, and even conversation cards to help girls learn about periods.
Why use organic pads? Pads that are organic are better for the body as they don't contain dioxins, a bleaching agent that has been associated with an increased risk of cancer, reproductive issues, and painful periods. Non-organic pads also often contain fragrances and other unnatural ingredients that can cause physical irritation and hormone disruption. Not with Blume's pads, though!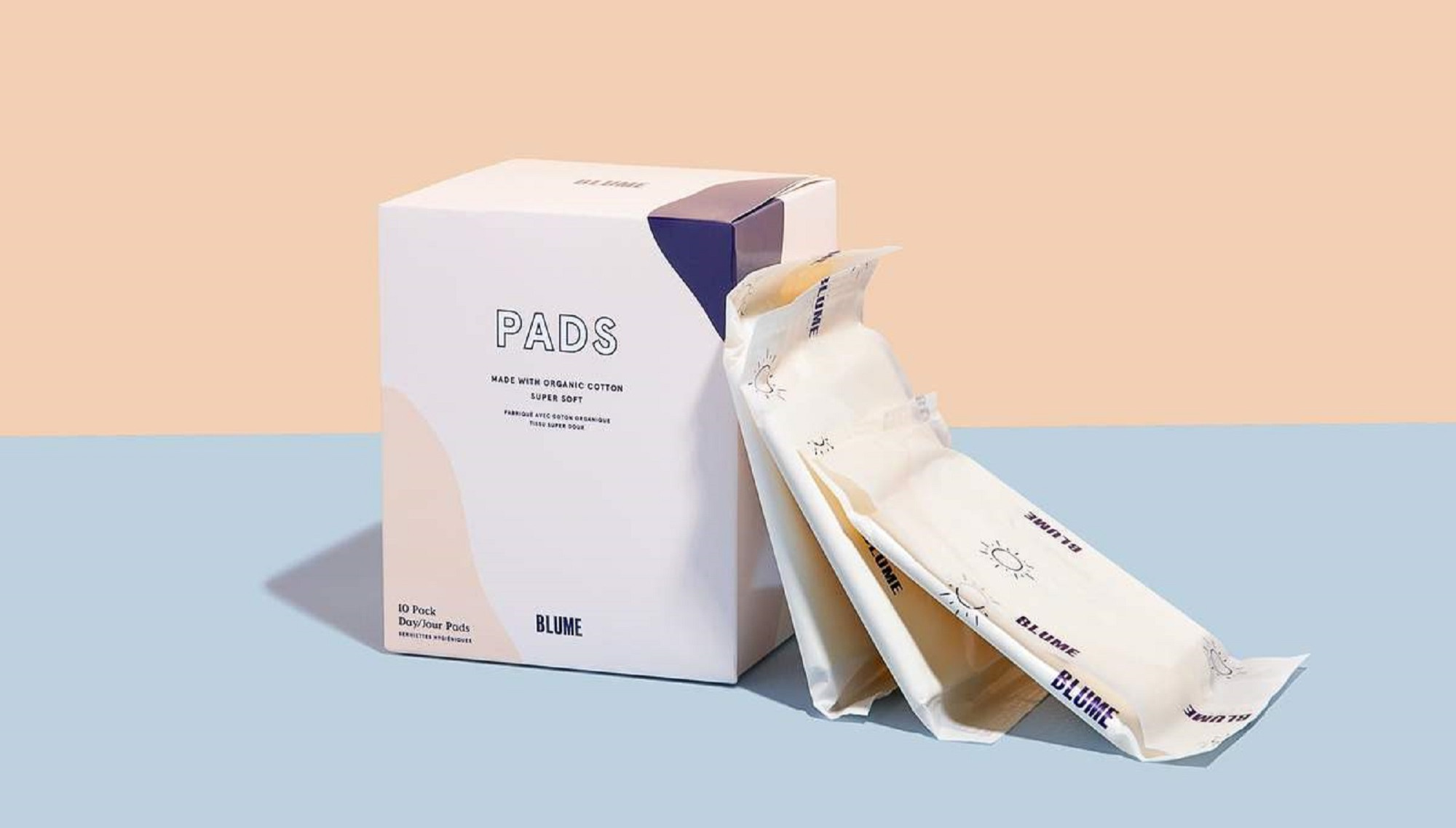 Wearers of traditional, non-organic tampons are also at risk of potential health complications. The fragrances and chemicals in these unnatural feminine products can trigger yeast infections and even increase one's risk of cancer. What is more, traditional tampons can lead to toxic shock syndrome, which can be life threatening. However, organic, all-cotton tampons from Blume are more breathable, meaning there's a reduced chance of yeast and bacterial infections, and contain no cancer-causing chemicals.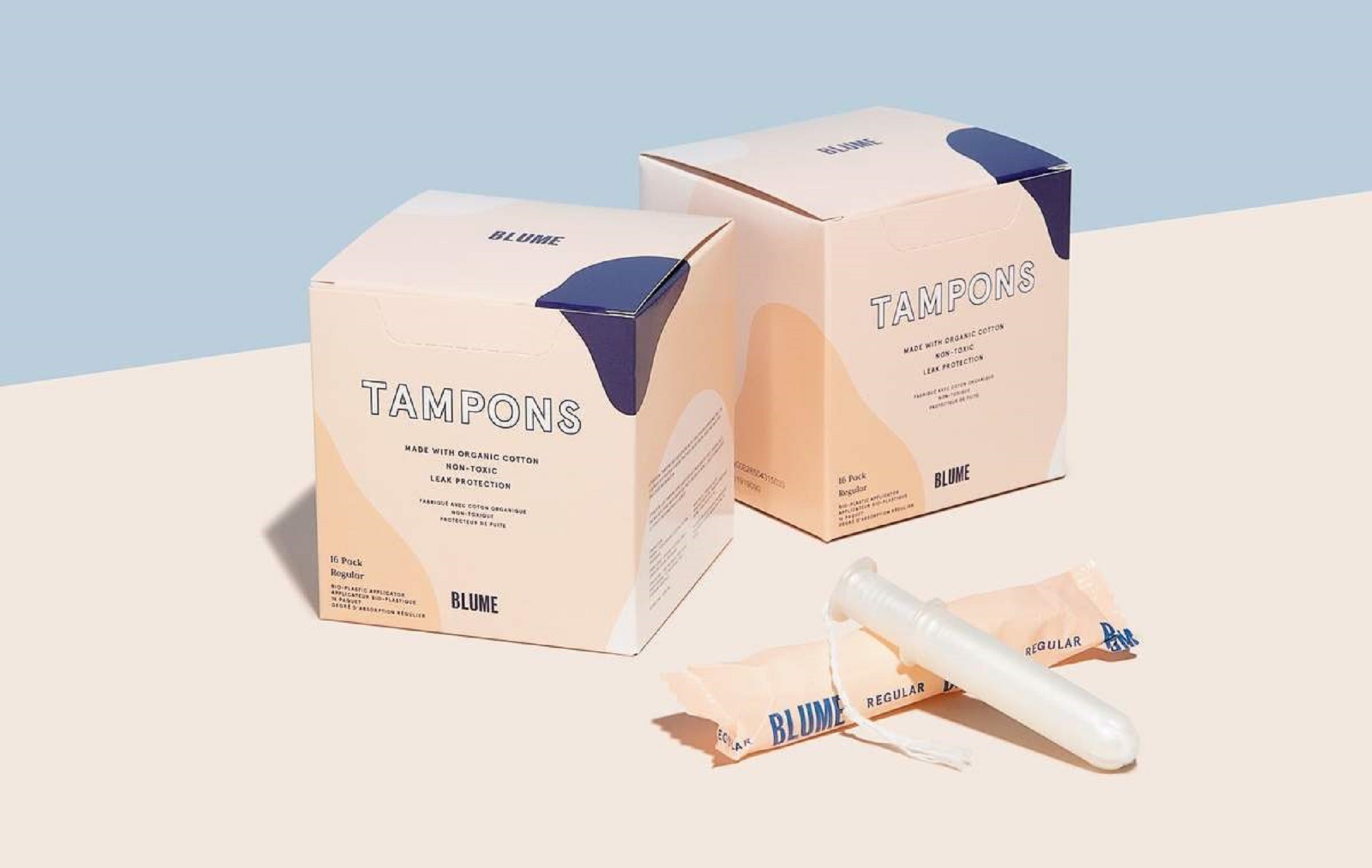 Do you know someone who is getting to the age where they should be expecting their first period soon? Blume's First Period Starter Kit has everything a girl needs for her very first flow. It offers a pack of organic pads, cramp oil and a heat pad for those aches and pains, and a set of cards that teach them about menstruation and its related topics.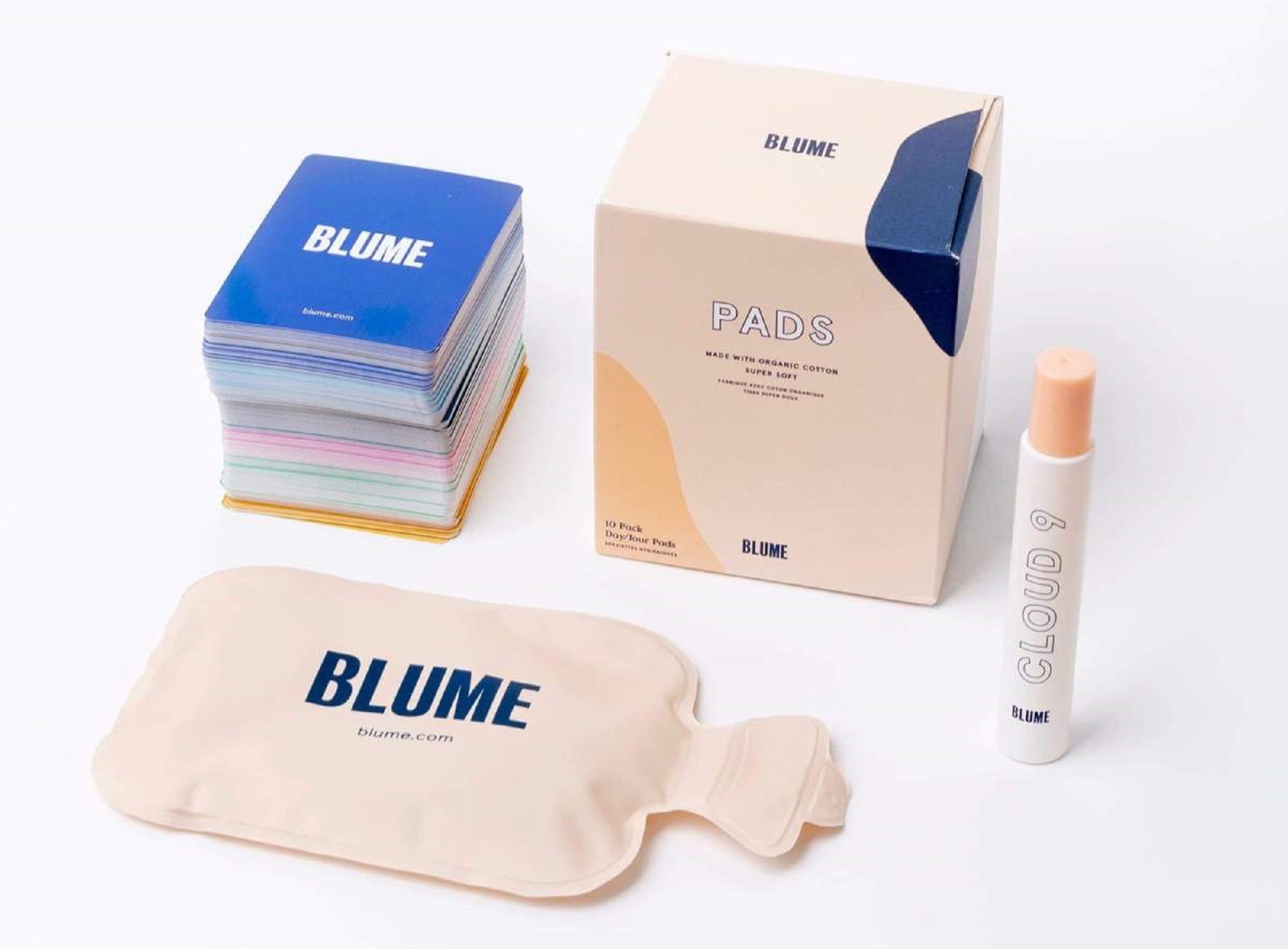 Cloud 9 Cramp Oil
Period cramps are no fun, but luckily, they can be alleviated with Cloud 9 Period Cramp Oil by Blume. This cramp oil contains a special blend of bergamot, clary sage, peppermint, lemon, and other oils for the ultimate pain relief (plus a pleasurable, natural scent as an added bonus).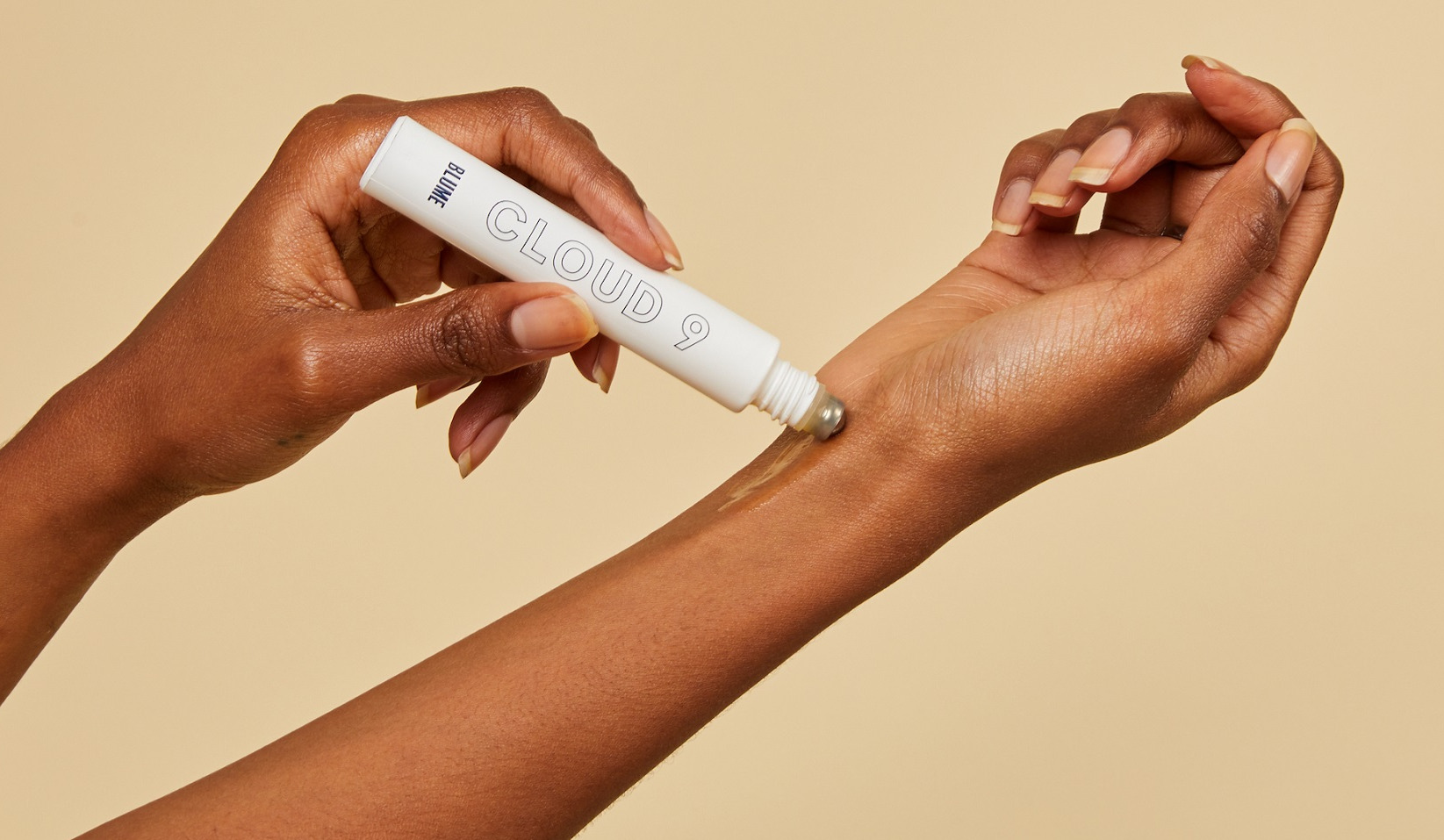 Shop Blume Cloud 9 Period Cramp Oil
Blume helps get those "awkward" girl-y conversations started
Some women have no problem talking about their menstrual cycle. However, for middle schooler and high schoolers, period talk and other related topics can be awkward and difficult to bring up. Not to mention, not all young women have the luxury of learning sex education in school or from their parents.
Thanks to Blume, girls can become more educated on important subjects including puberty, self care, body positivity, healthy relationships, and body science with their Conversation Cards. It's about time we get  topics like this out in the open. Knowledge is power.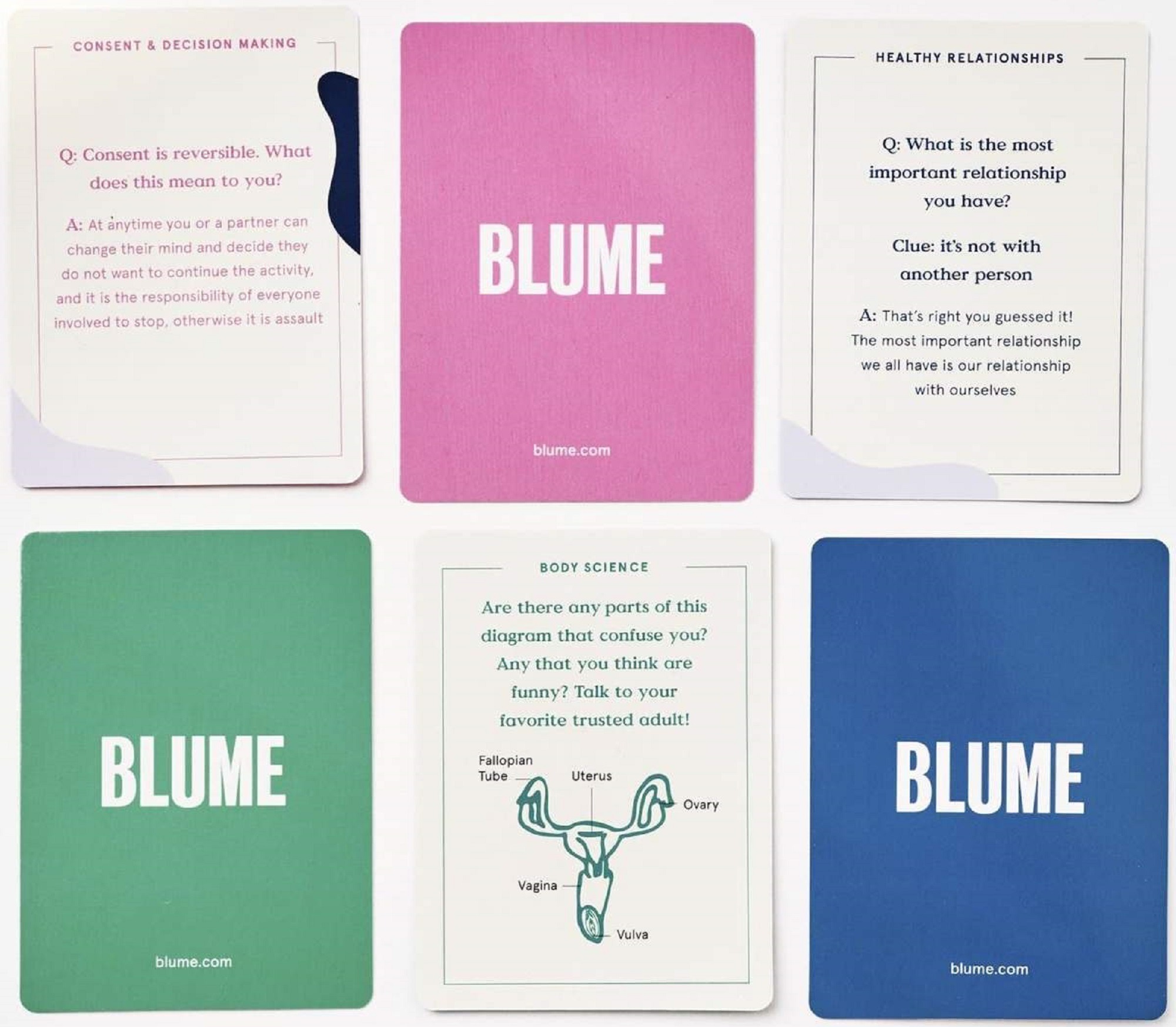 A portion of Blume's sales go to a good cause
Not only can women get natural products from Blume that can help give them the care they need during their period and throughout puberty, but a portion of sales go towards an organization called Days for Girls. This non-profit provides young women around the world with the knowledge they need to manage their periods and helps shatter the stigma surrounding menstruation. With the right education about periods, this can improve girls' health and livelihood.
Natural skincare products with gentle ingredients, organic feminine products that are biodegradable, a portion of your money going towards a great organization, and the breakdown of the period stigma: what's there not to love about Blume?
Shipping & Delivery
All Blume products are made in North America, in Canada or the USA. Shipping to the US and CANADA is free on all orders over $25. For orders less than $25, shipping is just $10. Shipping is free with all subscriptions. Visit their SHIPPING page for more details.