Comfortable men's underwear, briefs & trunks with MyPakage Pouch Technology by BN3TH
Amazingly comfortable men's underwear, briefs & trunks made from sustainable, eco-friendly soft fabrics and using BN3TH's patented MyPakage Pouch Technology.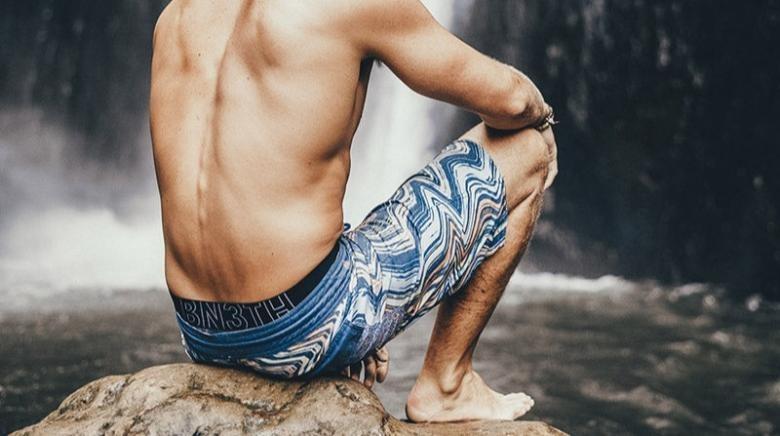 BN3TH designs and makes underwear for men that emphasizes comfort and sustainability 
BN3TH was founded in 2010 by Dez Price and his best friend Dustin Bigney. They saw a gap in the market for comfortable performance underwear for men, and went about reinventing men's underwear so as to increase comfort under everyday clothing, or as sportswear. Dez and Dustin made prototypes that they distributed at the 2010 Vancouver Olympics. Reviews were overwhelmingly positive, and the pair began handing out samples at trade shows. They were quickly approached by apparel distributors and eventually opened an office in 2013.
 
Soon after, they developed a patented technology designed to provide men with a 3-D pouch that eliminates chafing and shifting typically experienced with men's underwear. The unique shape of the MyPakage design reduces sweat, heat, and skin-on-skin contact while improving breathability and support, making BN3TH underwear ideal for activewear used for intense exercise or outdoor activities. The MyPakage technology distinguishes BN3TH from other men's apparel brands, which is one reason they've been featured in publications such as Forbes, Men's Journal, GolfDigest, Askmen, and Cool Hunting.  BN3TH continues to go from strength to strength with new, innovative designs.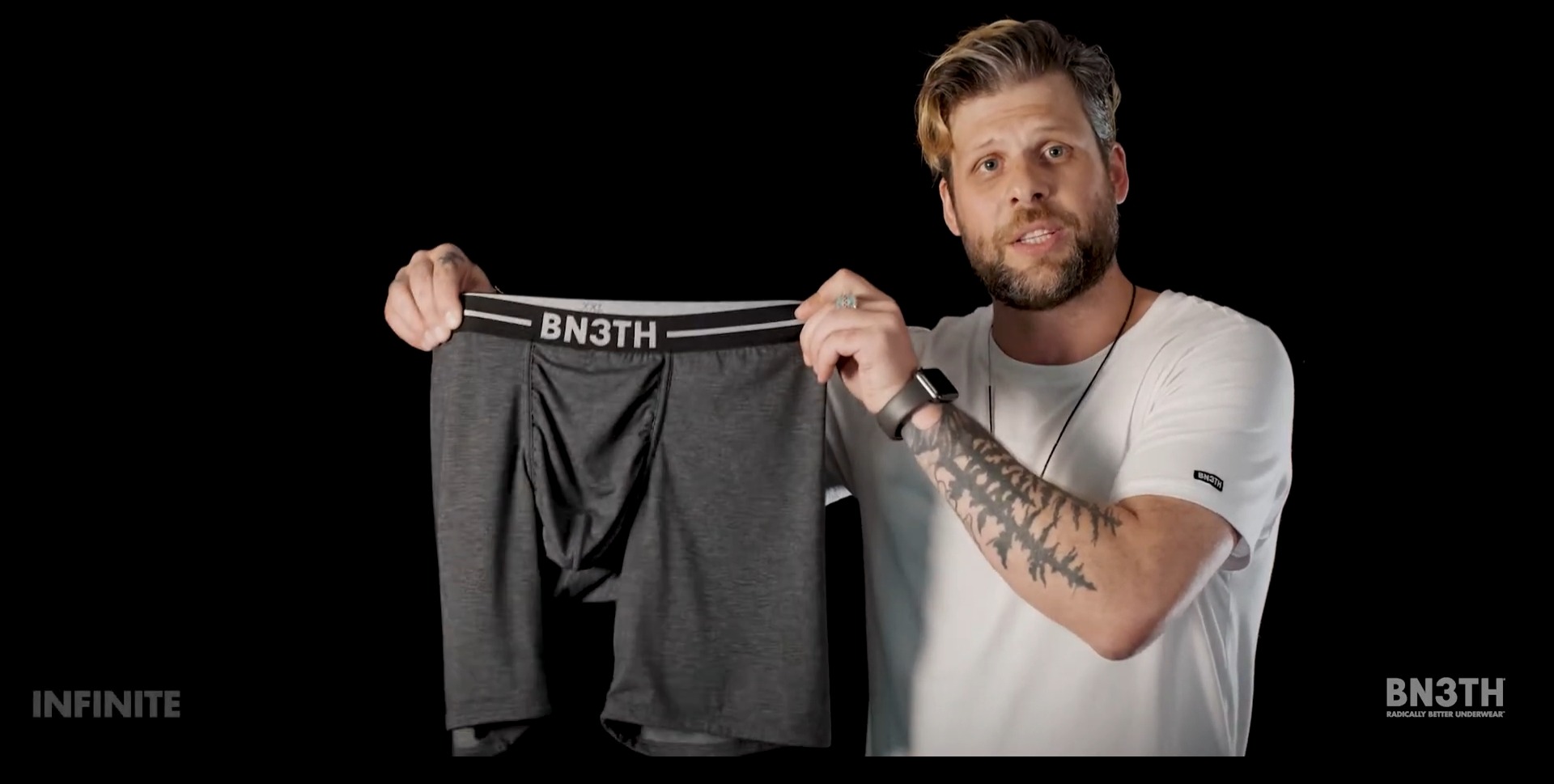 BN3TH men's underwear is perfect for all activities, climates, styles, and sizes. The BN3TH range includes briefs, boxer briefs, trunks, and full-length underwear, all of which are helpfully categorized into 3 collections - Breathe, Move, and Relax, depending on whether you're looking for sportswear or casual underwear. All products are made from a selection of fabrics, including Merino wool and Chamois, and there's a wide range of colors and patterns to choose from.
The BN3TH range of men's underwear includes briefs, boxer briefs, trunks, and full-length apparel
BN3TH offers well-made underwear suitable for use as activewear or casual apparel because they believe increased comfort equals increased performance. Many of their product choices have hundreds of positive customer reviews, which are a testament to the quality of BN3TH's underwear. Outstanding features like pucker panels, moisture wicking, and flatlock stitching ensure they're highly desirable and a worthwhile investment. Men who climb mountains, go swimming, or work out in the gym can all find BN3TH underwear to suit their needs. So can men who want to stay comfortable during their day job or relax while working from home. Providing underwear suitable for all these different situations is a significant benefit BN3TH offers to customers. 
BN3TH Classics Brief lets you move without chafing
BN3TH's Classics Brief comes in navy or black and features their patented MyPakage Pouch Technology. This makes them chafe-free and breathable, plus prevents unnecessary shifting or adjusting. The material is 95% TENCEL Modal and 5% Spandex, and the TENCEL Modal fabric is sustainably sourced, guaranteed to stay smooth and will keep you comfortably supported at all times.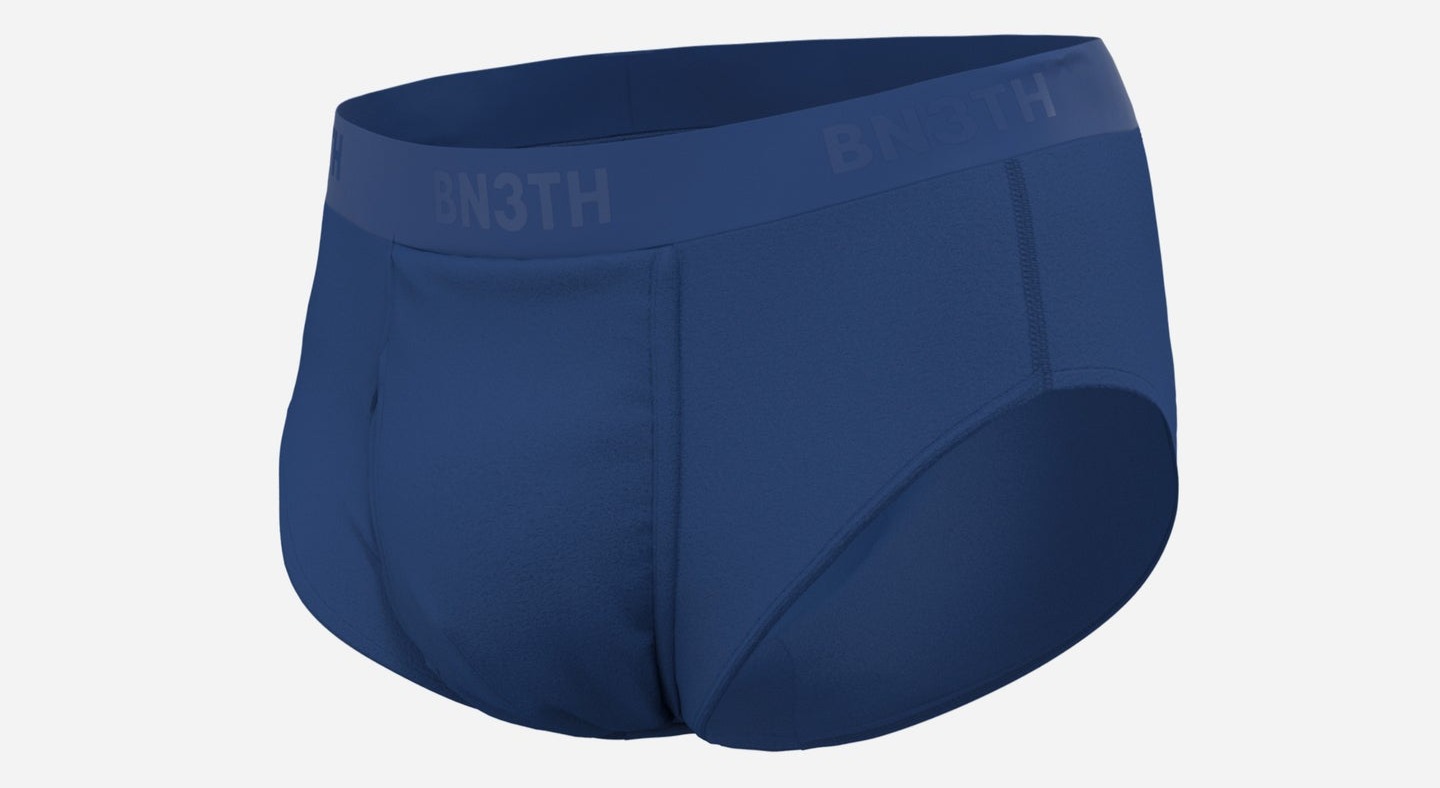 Features & details:
Soft 1 3/8-inch luxury knitted waistband
Seamless Pucker Panel 
Moisture wicking fabric
190 GSM fabric weight
Flatlock seams
BN3TH Classics Trunk keeps you comfortable and stylish at the same time 
BN3TH's Classics Trunk is a piece of slim fit men's underwear that includes a Pucker Panel gusset and flatlock stitching. The Pucker Panel works with the contours of your body, moving seams away from sensitive areas and increasing comfort, while the flatlock stitching ensures the seams are smooth where it matters most. The trunk is also ultra-soft, breathable, and lightweight thanks to the TENCEL Modal fibers. This underwear also comes in a range of funky and vivid designs that stand out, like Southwest Dusk.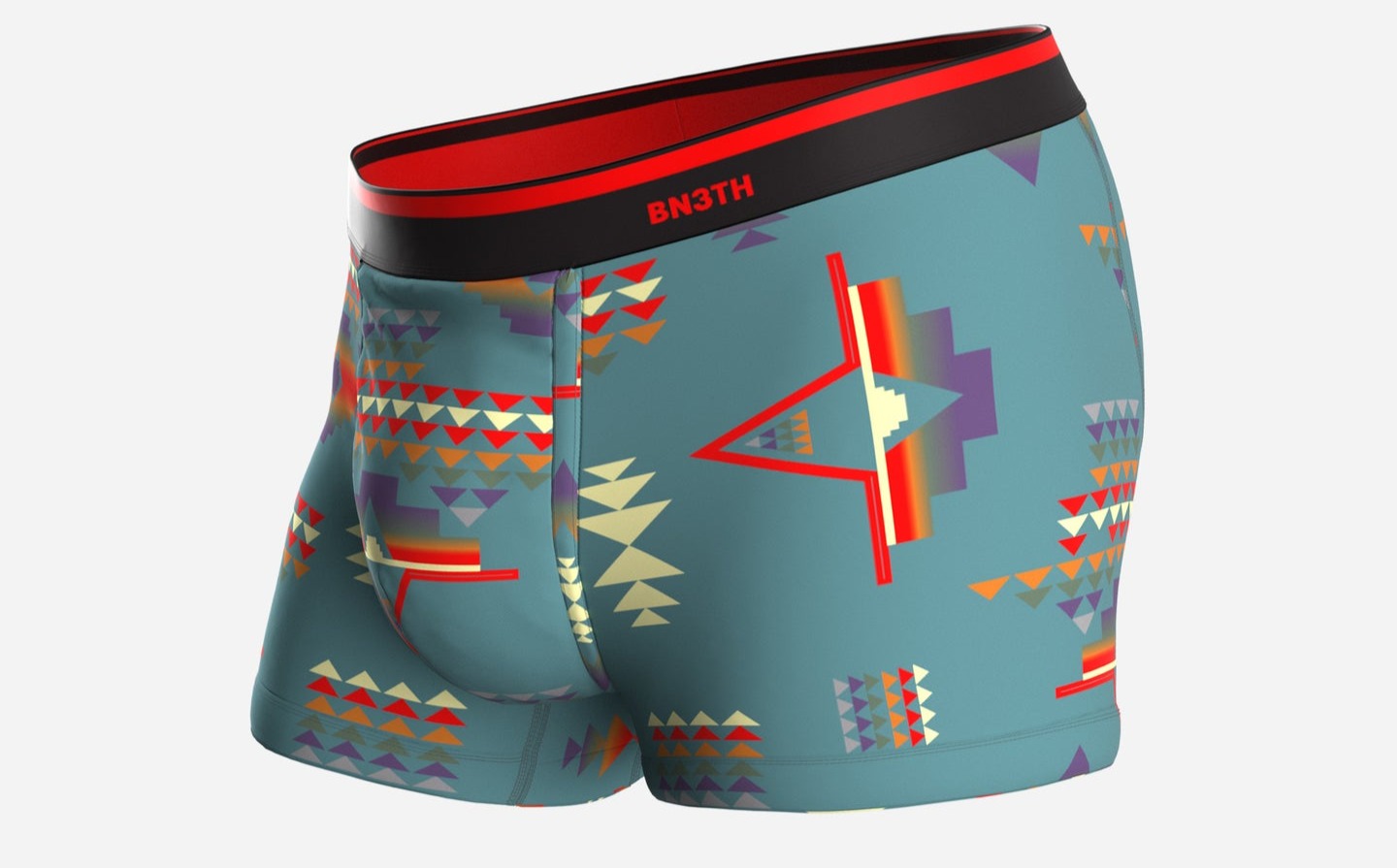 Features & details:
Soft 1 3/8-inch luxury knitted waistband
95% TENCEL Modal and 5% Spandex
190 GSM fabric weight
3.5 inch inseam
No fly 
Shop BN3TH Classics Trunk In Southwest Dusk
BN3TH Infinite Ionic Boxer Briefs stop the growth of odor-causing bacteria
BN3TH's Infinite Ionic Boxer Briefs feature IONIC+ NO STINK permanent silver technology that kills odor and won't wash out. The material composition is 62% Polyester, 26% TENCEL Modal, 7.5% IONIC+ Polyester and 4.5% Spandex. The Modal fibers add comfort and softness, while the polyester adds moisture wicking properties to the briefs. They're also slim fit and have a 6.5 inch inseam, distinguishing them from ordinary briefs. If using these boxer briefs as sportswear, the odor-killing technology will come in especially handy.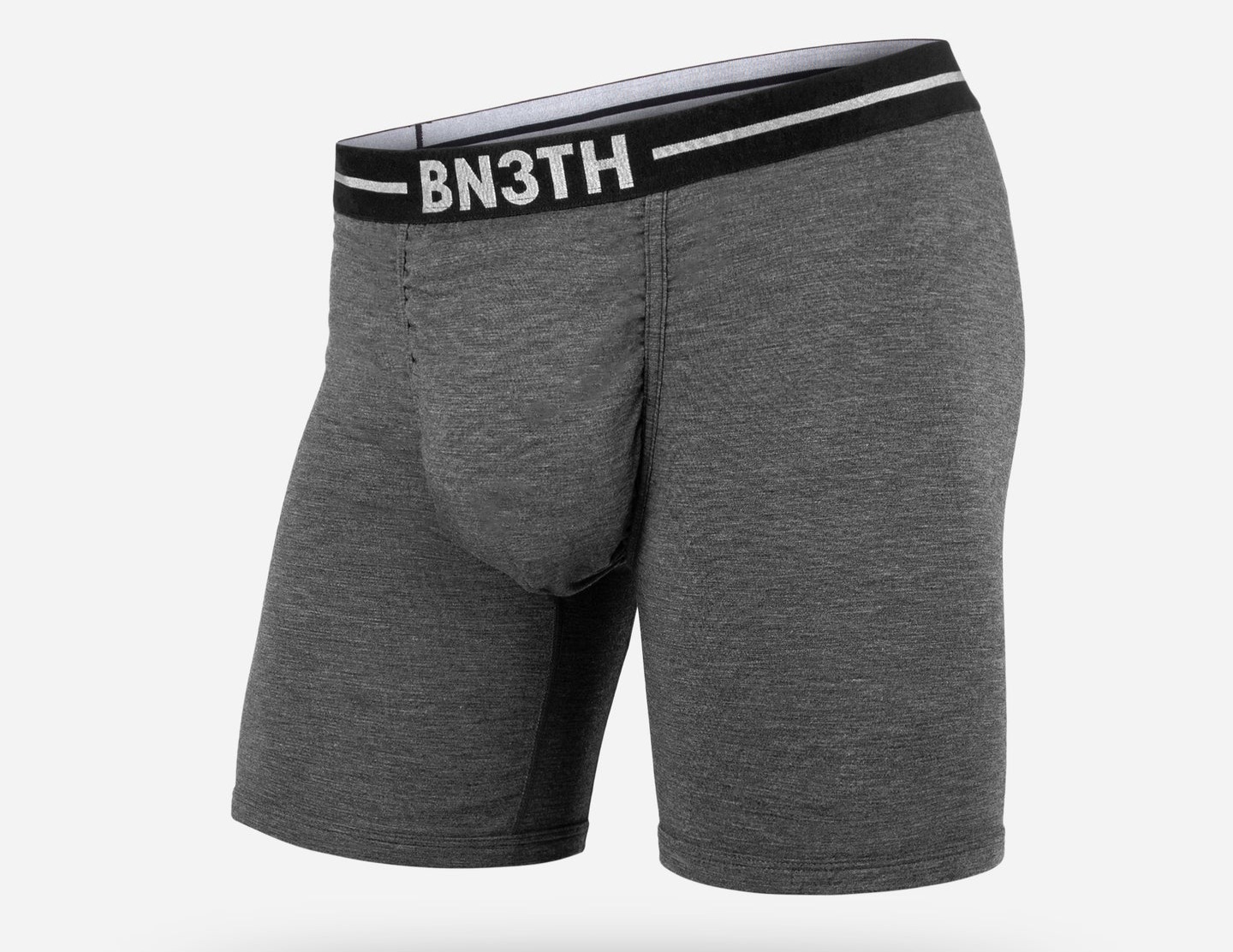 Features & details: 
MyPakage Pouch Technology 
190 GSM fabric weight 
Pucker Panel gusset
Flatlock stitching 
No fly 
Shop BN3TH Infinite Ionic Boxer Briefs
BN3TH Merino Wool Full Length underwear regulates your body temperature 
BN3TH's Merino Wool Full Length underwear is ideal for use as activewear because it  regulates your body temperature and is naturally anti-odor. It includes the same MyPakage Pouch Technology common to all BN3TH underwear and comes with the added benefit of being made in part from Merino wool. This means regardless of the temperature outside, this underwear will stay comfortable.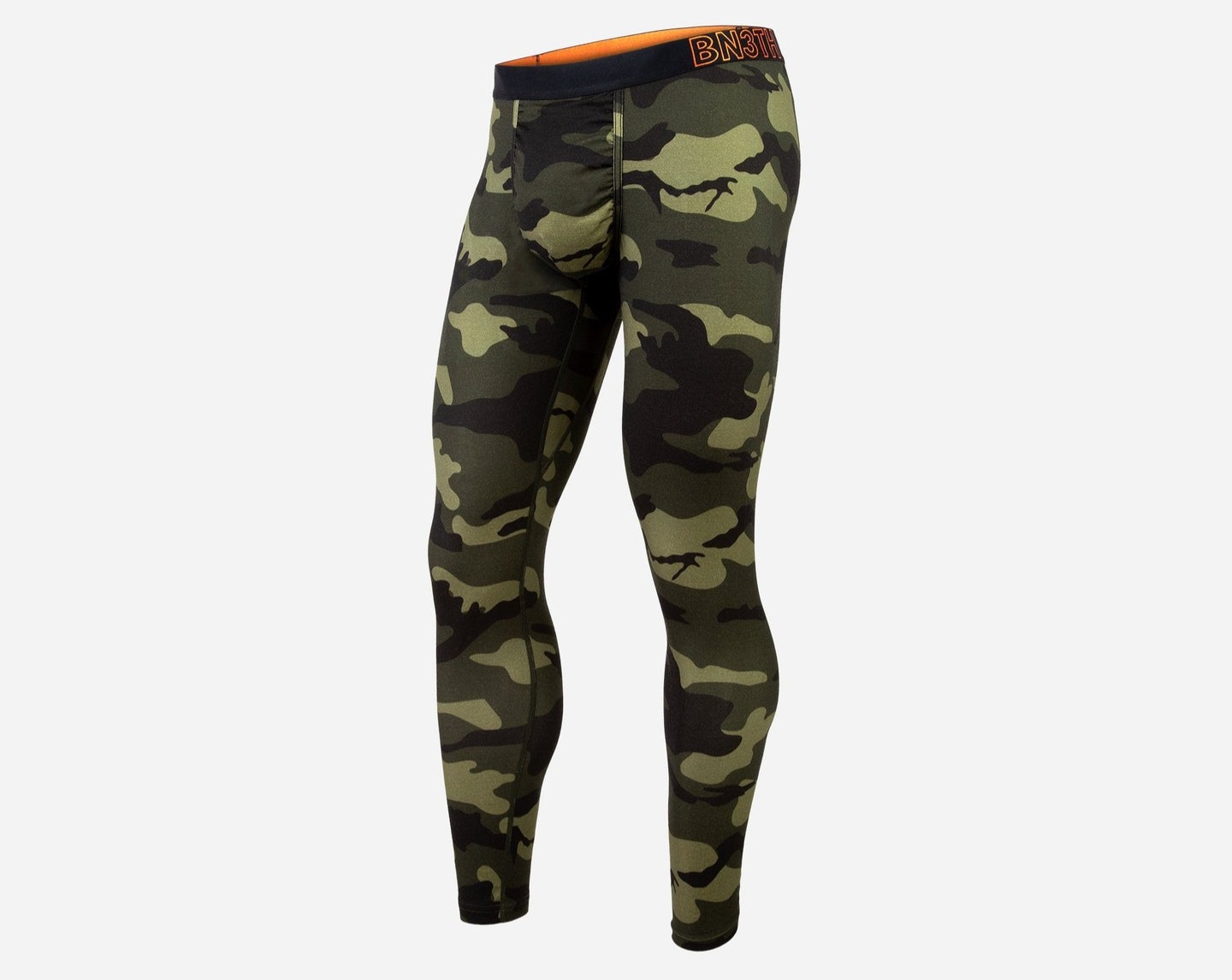 Features & details:
83% Merino, 13% Polyamide, 4% Spandex
3-dimensional support 
200 GSM fabric weight 
Slim fit
No fly 
Shop BN3TH Merino Wool Full Length Underwear
Ultra breathable and insanely comfortable loungewear designed for everyone
BN3TH also offers colorful and stylish loungewear products, like the BN3TH Sleepwear Long 'A Dozen Roses' unisex pajamas. They feature dual hand pockets, ribbed cuffs, and a drawstring waistband, making them perfect for indoor days when it's time to relax. Pajama shorts are also available, like the Sleepwear Shorts 'Covert Camo', which are great for warmer days when keeping cool is a top priority.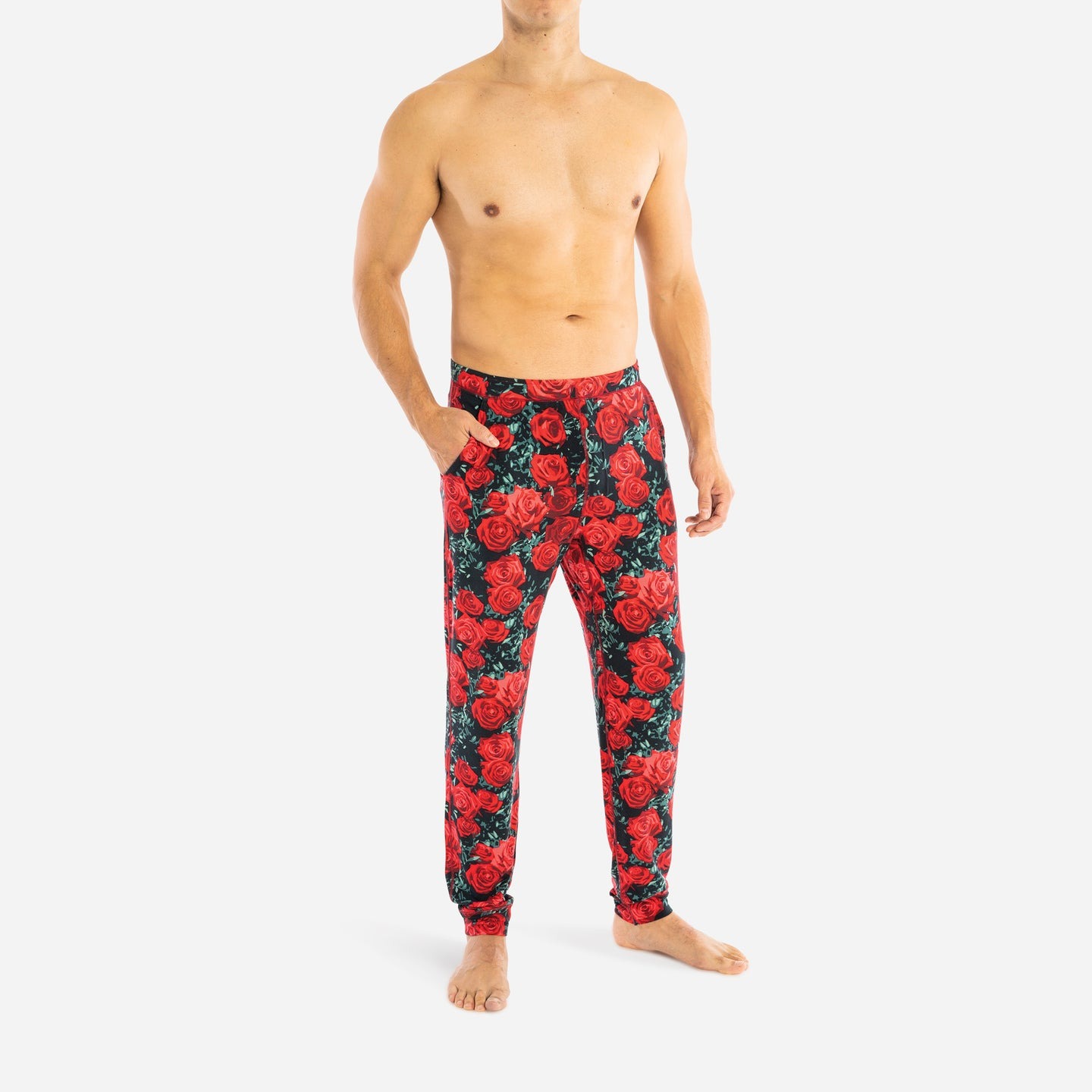 Common to all loungewear are these features and details:
Unisex: does NOT feature MyPakage Pouch Technology
95% TENCEL  Modal / 5% Spandex
190 GSM fabric weight
Modern tapered fit
30 inch inseam
Ultra comfortable French terry cotton joggers for every day of the week
BN3TH offers unique French terry cotton joggers too. The tonal cuff, media pocket and drawstring common to BN3TH joggers combine style with functionality. BN3TH joggers also feature a 30 inch inseam and 320 GSM fabric weight, ensuring quality and comfort aren't compromised.
Buttery soft crew neck tops to keep your body temperature regulated
BN3TH's short sleeve crew neck tops have a tapered fit with a scoop-tail, and are fabricated from a mix of 62% Polyester, 26% Modal, 4.5% Spandex, and IONIC+ NO STINK Technology, a proprietary silver-based antimicrobial technology. Some models incorporate soft sustainable TENCEL Modal with structured cotton in the fabric. All of which combine to provide breathability and softness. 

For cooler weather, BN3TH has a selection of Merino wool long sleeve tops made form 83% Merino, 13% Polyamide, and 4% Spandex. The sleeves of this relaxed-fit thermal top have low profile thumb holes, and the cut is also tapered with a scoop-tail. This is a top that can easily transition from a base layer to street wear.
BN3TH prioritizes increasing sustainability in manufacturing and reducing their environmental impact 
BN3TH focuses on innovation every day, seeking out new methods of manufacturing that mitigate any negative effects they have on our planet. They also focus on sustainable material sourcing, and carbon neutrality is an essential part of their approach. Through their efforts, carbon dioxide emissions have been significantly reduced, but their end goal is net zero. To do this, BN3TH needs to use carbon offsets.
Carbon offsets are eco-friendly projects that help the environment, including renewable energy, forest conservation, and energy efficiency schemes. BN3TH purchases carbon offset credits from projects like these which equal the emissions they can't avoid. This also helps fund the projects so they can achieve their goals. 
BN3TH also worked closely with Green Story to calculate the emissions produced in every stage of their supply chain. This helped them pick the right carbon offsets to compensate for those emissions. Another step BN3TH took was using TENCEL Modal fibers, included in over 90% of their activewear products. These fibers come from sustainable wood and pulp and are both compostable and biodegradable. 
Reliable and stylish underwear for sportswear or casual purposes from BN3TH
The collections and underwear types available from BN3TH give men plenty of choice when it comes to choosing the best underwear. All are reliable and stylish because the BN3TH manufacturing process is thorough and environmentally-friendly, while the designs stand out and ensure every piece of underwear is appealing. Finally, their patented technology, 10+ years of experience, and plenty of positive customer reviews give BN3TH a competitive edge in the men's underwear market.  
Shipping & Delivery 
Unfortunately, BN3TH only ships to countries within North America. Shipping is free on orders of $90 or more, except for Hawaii and Alaska. Orders typically ship within 2 business days, with the possible exception of holiday seasons. You can track the progress of your order via the tracking number sent by email within 24 hours. 

Returns are possible within 30 days of purchase, and BN3TH will refund your order within 3-5 business days. BN3TH also provide a return shipping label with every purchase so you don't need to pay for the return shipping. Exchanges and returns are not available for sale items. To find out more, you can visit the BN3TH SHIPPING page.